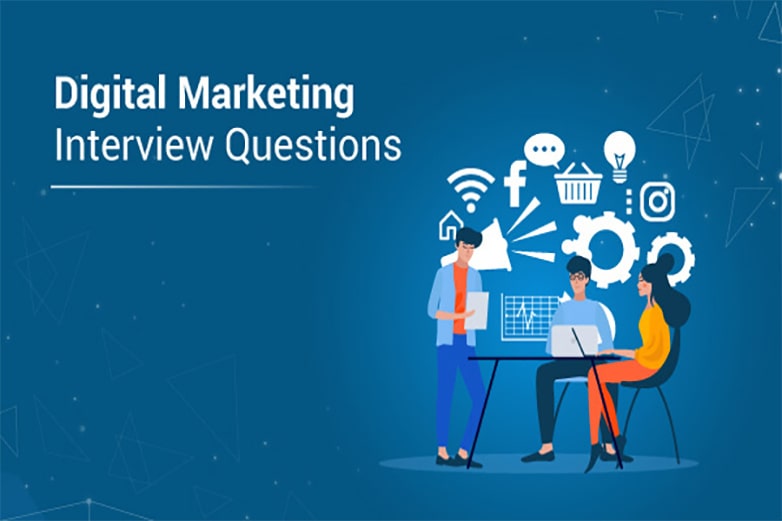 Interview Questions For The Job Role- Brand Marketer
1. Why is digital marketing preferred over normal marketing?
In this era, prospects have become extraordinarily different in terms of their interests and demands. The need for digital marketing rises to a great extent considering cost-effectiveness, global reach, easy access of information related to products or services, higher internet knowledge, etc.

2. What are the different types of digital marketing?
The different types of digital marketing include Search Engine Optimization(SEO), Search Engine Marketing(SEM), Content Marketing, Email Marketing, Social Media Marketing(SMM).

3. What are the most effective ways to increase website traffic?
Some of the most effective ways to include website traffic include- social media advertising, paid search, content marketing, crispy headlines, SEO activities, Targeting keywords, internal linking, posting content on LinkedIn, etc.

4. What are inbound and outbound marketing?
Inbound marketing involves attracting customers and turning them into leads through different marketing channels like SEO, content marketing, social media campaigns, etc. While, outbound marketing includes connecting with the targeted audience via more conventional ways of marketing like radio ads, TV ads, print advertisements, sales calls, emails, etc.

5. Explain the difference between branding and direct marketing?
The difference between branding and direct marketing includes time-consuming and medium to reach the customers. Branding is a way to build awareness, which is a long-process digital marketing technique, where a company creates a name, logo, or design that can be easily recognizable as a brand name. Whereas, direct marketing is a type of digital marketing that helps companies reach out to their potential customers through different mediums like emails, catalogs, pamphlets, flyers, and many more.

6. Which is the better form of digital marketing- SEO or PPC?
It is not easy to say whether PPC OR SEO is better, as it mostly depends on business requirements and above all, on budget. Pay Per Click or PPC is a form of paid marketing, where ads can be displayed on every search engine result page by paying a fee. Whereas, SEO is a free-of-cost activity that helps build traffic to achieve high rankings in the organic search results.

7. What is content marketing? Why is it needed?
Content marketing is a marketing strategy to create and distribute relevant and valuable content to grab the attention of a potential target audience, intending to make them their future customers. However, a well-established content marketing strategy helps in increasing the site traffic, generating brand awareness, increasing engagement, boosting lead generations, etc.

8. What should be avoided while executing a brand marketing strategy?
(i) Not researching competitors well, which may sometimes result in offering the same message as other brands.
(ii) Not considering long-term brand mission.
(iii) Not understanding a clear behavior, attitude of user persona.
However, a brand marketing strategy succeeds only when we have a clear picture of the purpose of the brand. It is necessary to well-research the competitors and the target market and deliver the right message to the intended audience.

To be an ideal digital marketer, enroll yourself in the Digital Internships program offered by Indian0. To know more, visit the website.