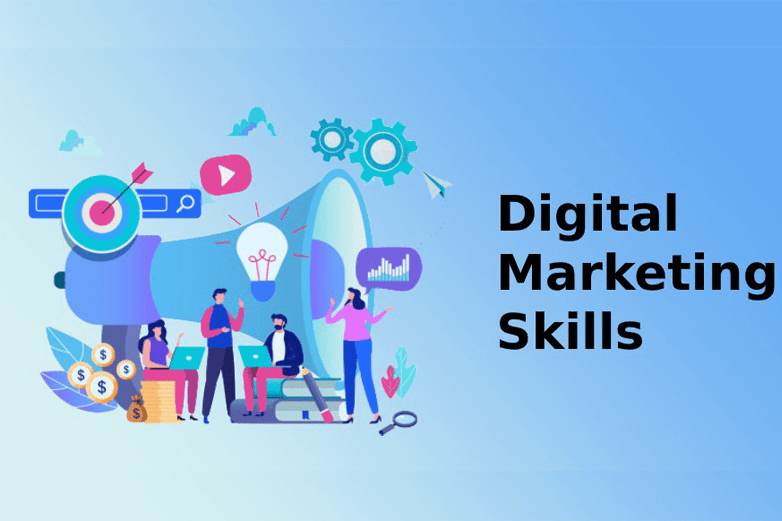 Skills Required To Put In Digital Marketing Resume
Digital marketing is a high-growing and highly competitive sector, where job prospects include the marketability of a brand or the organization, developing awareness among the public about the products or services offered by the organization. In digital marketing, the way of marketing has been shifted digitally, thereby increasing the need for a wide variety of different skill sets required by different job roles. From web designing to writing content to data analyses, an ideal digital marketing candidate can manage to work everything.

Let us have a look at the top skills required by a digital marketer to include in a resume or CV:

Writing skills
Communication plays a major role in marketing, and in digital marketing, this communication tends to be written in good quality, like writing a copy for websites, blogs, marketing materials, etc. However, this writing can be short or long, depending on the necessity of promoting a brand and selling the product or services of an organization. If you are unsure of your writing, you can take the help of Grammarly, which is a great site to help improve your grammatical skills and make necessary corrections in terms of spelling mistakes.

Blogging skills
Most websites contain a blogging section, and for blogging in digital marketing, WordPress is the most suitable platform, which is required to be learned as soon as possible. Being a fresher in the field of blogging may make you a little nervous, but don't let yourself down. Try to start your blog, start from a small one that will help you boost your confidence alongside helping you develop some vital technological fluency. Besides, knowledge of some other forms of social media and micro-blogging platforms will also be an added advantage.

SEO skills
Search engine optimization is the strategy of getting a website to appear on top of the list of search engine results. It is basically done by using keywords to target relevant audiences, measuring the results of your link building. This digital content marketing may also include keyword search, traffic reporting, and competitor analysis. Having the ability to use electronic media to collect and examine information is no doubt a valuable asset to be included in any digital marketing resume.

HTML skills
Hypertext Markup Language or HTML is a coding language developed to form the layout of every website. In digital marketing, you may be expected to have some knowledge of technological fluency, in which HTML is the important one. Apart from this, CSS and Photoshop are some other technical skills that are proven valuable to a digital marketing resume.

Designing skills
A digital marketer is required to promote brand things by crafting Infographics, graphs, and social media banners in a creative, innovative, and professional manner to hold customers' interest or attention.

Having both visual and verbal skills is all required in digital marketing. Therefore, work on yourself to develop skills to be an ideal digital marketer and hone your existing skills by enrolling in the Internship in Digital Marketing Program offered by Indian0 to get real-working world experience.